Just planning a visit fills the mind with a desire to get back to nature, explore the hiking trails, see the magnificent waterfalls and let all of life's noise fade away.
For some it is to pack the bags, make a reservation in one of the many area hotels and others visit the camping store to pack for a truly outdoor experience. The choice of lodging or tent camping is vast and up to the traveler's wish. But now, you can have the best of it all, an adventure to experience camping in the mountains without losing the convenience or luxury of a hotel. Glamping has come to the Great Smoky Mountains.
Glamping, also known as luxury camping or glamorous camping, is an experience-based kind of travel that allows guests to get outside and enjoy the great outdoors with five-star amenities and unbeatable outdoor access, glamping is where luxury meets simplicity.
Discover the Breathtaking Southern Appalachian Wilderness with Under Canvas in the Smoky Mountains. Wake up to the sounds of nature on the 182-acre camp taking you back in time on an unforgettable journey while enjoying the splendor of glamping in the authentic safari-inspired canvas tents. With convenient access to more than 800-square-miles of lush forests, pristine mountain views, and the Appalachian Trail, there's really no luxury lodging or accommodations near the Smokies like it!
Glamping options like The Stargazer that has its own viewing window above the king bed to stargaze at night and ensuite bathroom with a shower, sink and toilet. A wood stove keeps the tent warm at night and a private deck allows you to enjoy the outdoors. All of the luxury tent options offer a private, inside tent bathroom, deck and wood stove for warmth.
Under Canvas offers cafe-style dining on camp. Simply place your order at the counter and enjoy a leisurely breakfast in camp, or grab it to-go to get an early start for your adventure. At the end of the day, head back to camp and enjoy dinner under the stars, finishing the night off with s'mores at the community fire pit. They also have boxed lunches available, just place your order the night before and then pick it up the following morning as you head out to experience everything the Smoky Mountains have to offer. There is something for everyone on the menus including vegetarian choices and nightly specials.
This luxury adventure is not just for the couple or family, if you are looking for the perfect glamping wedding venue or place to have a family reunion, corporate retreat or private event, then you have found it. They offer unique event packages and will assist with all aspects of event planning. Adventure and vacation packages are available for any size family or group, they will guide you through every step of planning a spectacular time away from the hustle and bustle of life.
Under Canvas offers many adventure options from discovering the Great Smoky Mountains National Park at your own pace, to exploring the hidden jewels with expert guides, to taking an extreme helicopter tour over the Chilhowee Mountain Range and Bluff Mountain. There is so much to do in the area, with over 700 miles of wild trout streams, fishing beginners or experts will enjoy every minute. Have you thought about biking in the mountains? It is a unique way to enjoy the sights and sounds of nature as you enjoy a ride on quality, well-maintained mountain bikes with a wide variety of trails available to all riding skill sets.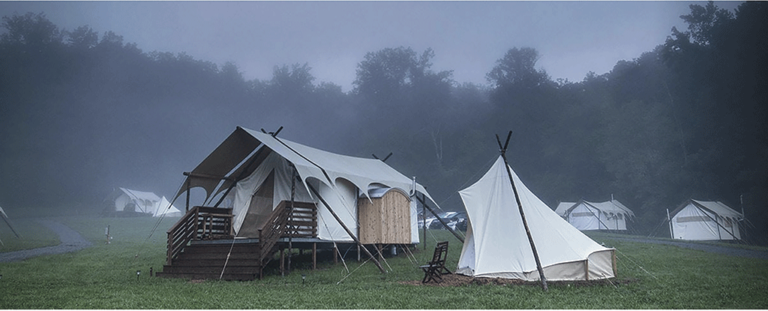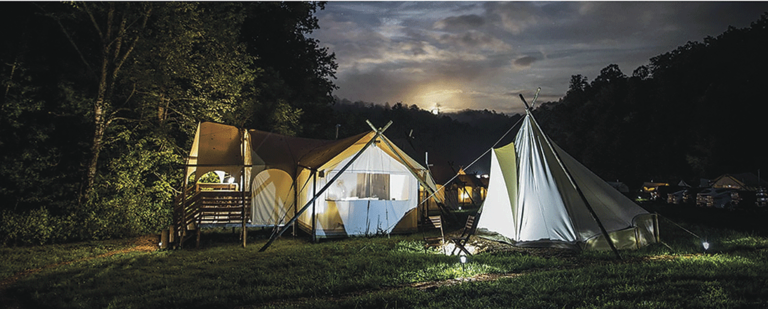 There is an unforgettable adventure for all ages and memories waiting to be made.
Inspired by the African safari experience, founders Sarah and Jacob Dusek set out to create an immersive outdoor escape that serves as a unique bridge between travel and the outdoors. Under Canvas began in 2009 with the opening of an all-inclusive glamping adventure package and has since grown to include eight luxury glamping resorts and a customized event's offering, bringing the glamping experience to life anywhere in the country.
The Under Canvas safari-inspired tents include amenities such as daily housekeeping and fresh towels, plush king-size beds, luxurious linens, and bathrooms. Kids and adults alike delight over evening s'mores around the communal campfire as they share their stories of their day's adventure. Recognized as the "perfect glamping experience" by Vogue, Under Canvas operates locations in Yellowstone and Glacier in Montana; Moab and Zion in Utah; Mount Rushmore in South Dakota; Great Smoky Mountains in Tennessee and Grand Canyon and Tucson, Arizona.
And guess what? You can have Under Canvas come to you! Whether that's renting a single tent or planning an entire event, they offer for-hire accommodations. Weddings, festivals, corporate events, film shoots, conferences, temporary houses, trade shows and more. It's Under Canvas for any occasion, from high class to rustic!