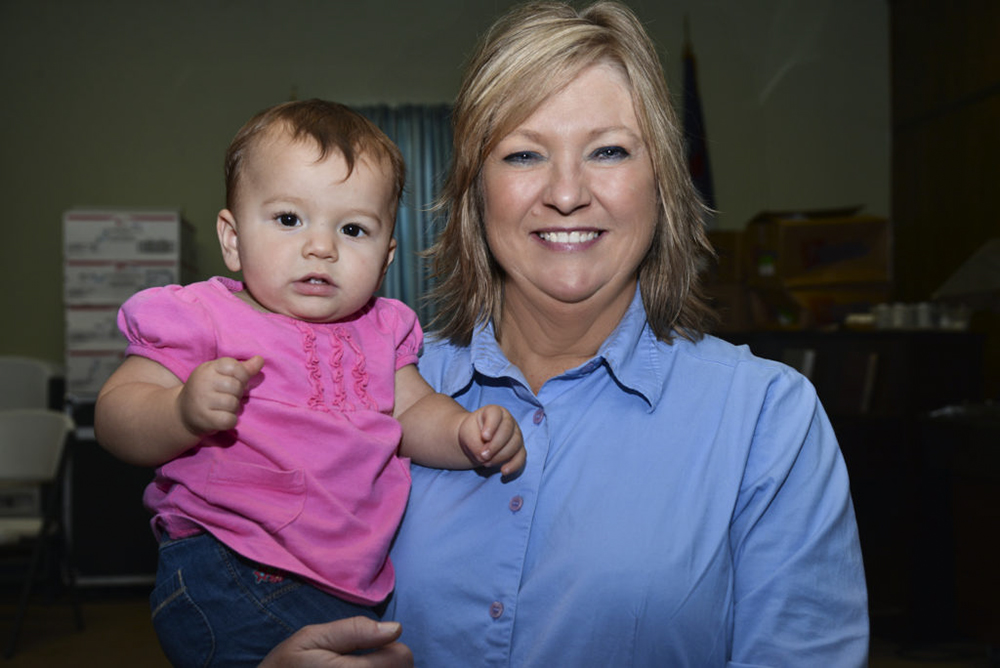 Never underestimate the difference YOU can make in the lives of others. Step forward, reach out and help. -Pablo
Friday, November 4, 2016. Hugs and smiles abound as people greet each other at Cooke Ministries Center. The aroma of good food fills the air. Today's menu is roast beef, mashed potatoes, green beans, slaw, rolls, drinks and all kinds of desserts. Meals will be served by volunteers at noon, and after everyone is full, there will be devotions and singing led by enthusiastic volunteers. Before people leave, they can fill up on giveaway food items such as fresh produce, breads and dairy products, donated by Food City and collected twice a week by Tennessee Wesleyan University Service Leadership students. Every Monday and Friday approximately 100 people come to Cooke Ministries not only to have a nutritious meal, but to fulfill spiritual and social needs as well.
The year 2009. Tanya Murphy was no stranger to hard times. In fact, there was a time during 2009 that she was jobless and homeless. Even in these circumstances, she felt led by God to be the hands and feet needed to give people a hand-up and help them get back on their feet. Grace and Mercy Ministries started when Tanya asked the community to bring canned goods and leave them on the steps of Keith Manson (Forest Home). The response was generous. Tanya cooked the donated items and served fellowship and food to the homeless out of the back of her van for eight months.
August 2010. The community learned mostly by word of mouth how Tanya was helping the homeless, and soon she was invited to speak to civic organizations and churches to tell the story and let people know how they could help. Becky Jaquish, a member of the McMinn Ministry board of directors, heard her speak and invited Tanya to address her board. A prayer was answered when the board agreed to let her use Cooke Ministries Center for her ministries.
Meals are furnished on a rotating basis by businesses, individuals and 49 churches representing ten different denominations. It is served by volunteers. Approximately 150 meals are served each Monday and Friday because many participants also get "to go" boxes to help them through the week. Says Tanya, "Everyone is welcome. We never question why people come, only realize that they have a need."
Grace and Mercy Ministries has come a long way in a short time. It is now a 501©3 non-profit organization governed by a board of fourteen members and is a United Way Partner Agency and a member of the Chattanooga Food Bank. It has also been able to add a van ministry to pick up people that have no other way to get to Cooke Ministries Center.
Nicole Gibbs is an active member of the board. She sums up services offered this way, "Grace and Mercy offers an unmatched service to our community – a community with a need for basic life essentials, including not only the warmth of consistent, nutritious meals, but also the warmth of meaningful fellowship. We are blessed with a director and volunteers who are committed to our mission and to making a true impact on those we are so proud to serve."